San Diego Lifestyle Newborn Pictures
| Newborn Photographer in San Diego |
There are really not a lot of things that are more special than having family ask you to capture some of the most important moments in their lives. So when my sister-in-law asked me to take some San Diego Lifestyle Newborn Pictures of her new daughter at their home, I immediately said YES! Honestly, I don't do a lot of in-home newborn sessions anymore, but when I do, they're extra special because I know how much they mean to the family. Lifestyle Newborn Pictures are more relaxed and a chance to feature the family's home in their newborn session. A way to tie the entire story together.
The biggest struggle with in-home sessions is the light fluctuations. During Studio Newborn Pictures I control the light with my light setup. But with in-home sessions, I have to rely on the natural light they get in their home. That means we usually do a lot of poses right next to the windows. Because they live in an older home, the windows are smaller, creating a more direct light with deeper shadows. AND I LOVE IT! Honestly, I'm so happy with these pictures and I know mom and dad love these memories of their baby girl.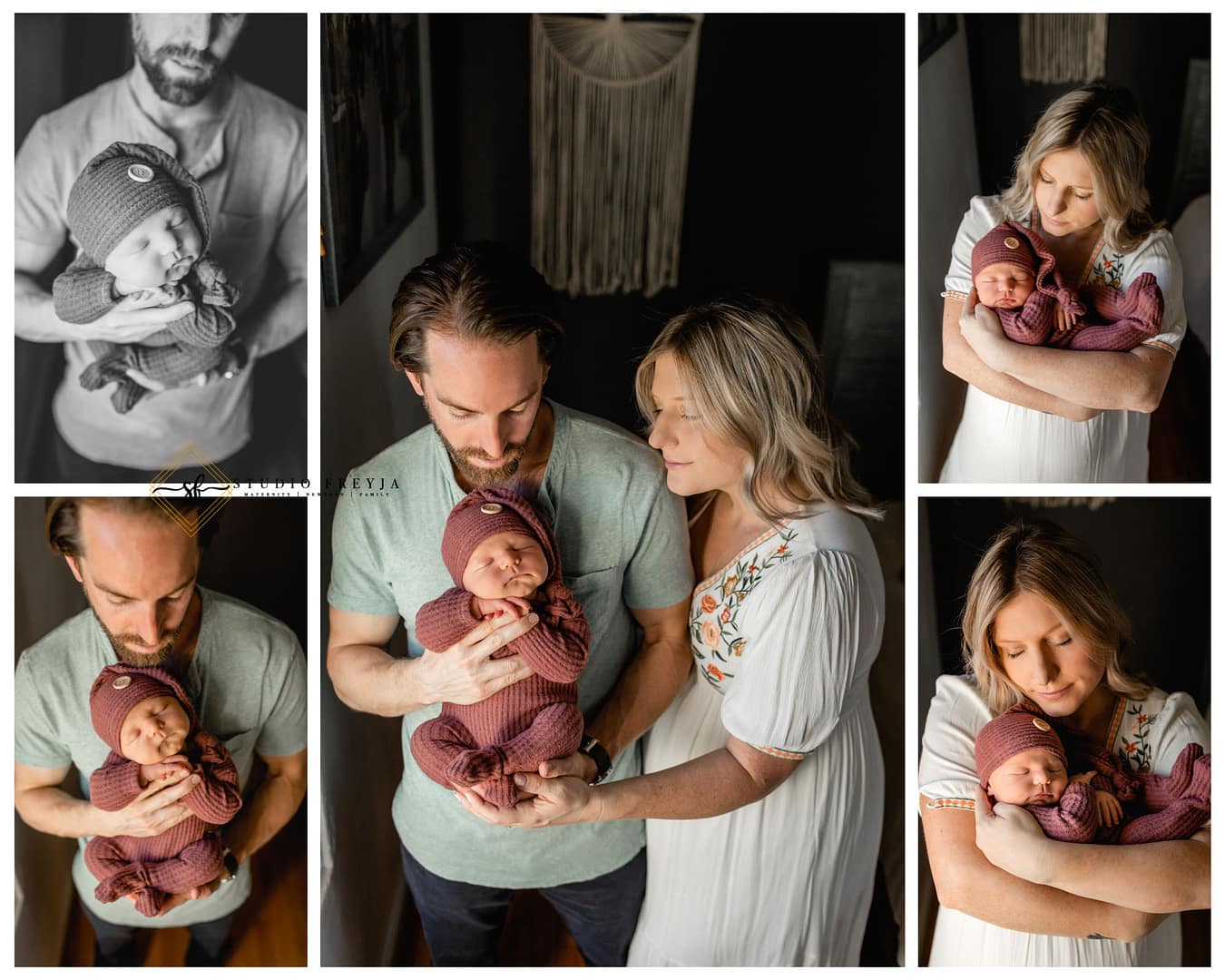 Newborn Pictures on the Bed
| San Diego Lifestyle Newborn Pictures |
Another nice spot that I love utilizing during Lifestyle Newborn Pictures is the main bedroom. Usually, parents have a bigger bed that can fit the entire family. There's usually at least one main window in the room that provides directional light, creating beautiful portraits. If you have seen my post about Sibling Newborn Poses Tips and Tricks you know that I love utilizing beds and couches to pose newborns with their family members. A big bed is a great way to pose newborns with younger siblings or with dogs, like with this family dog.
The bed provides enough space for the baby to safely be posed either in their parent's arms or by themselves on the bed without the risk of rolling off. It also gives space for the family dog to join in on the fun. If you didn't know this about me, I'm a HUGE dog lover, so if you have a dog you know they'll be part of your pictures in one way or another. This setup really created the most beautiful family portrait and once they'll be able to look back on for a long time.
At Home Newborn Photos of Baby Girl
| San Diego Lifestyle Newborn Pictures |
Obviously, I couldn't let this at-home, lifestyle newborn session end without taking some individual portraits of baby girl. These individual newborn pictures are a mix of using the space in the house, as well as some simple digital backdrop images I've purchased in the past.
When traveling to a client's home I generally can't bring a ton of props for setups as it's hard to fit in the car and also, the house may not have the space for it. That's why I love being able to use some simpler digital backdrops to create a little variety in the gallery. And I love how simple these were, while still tying in with the rest of the session.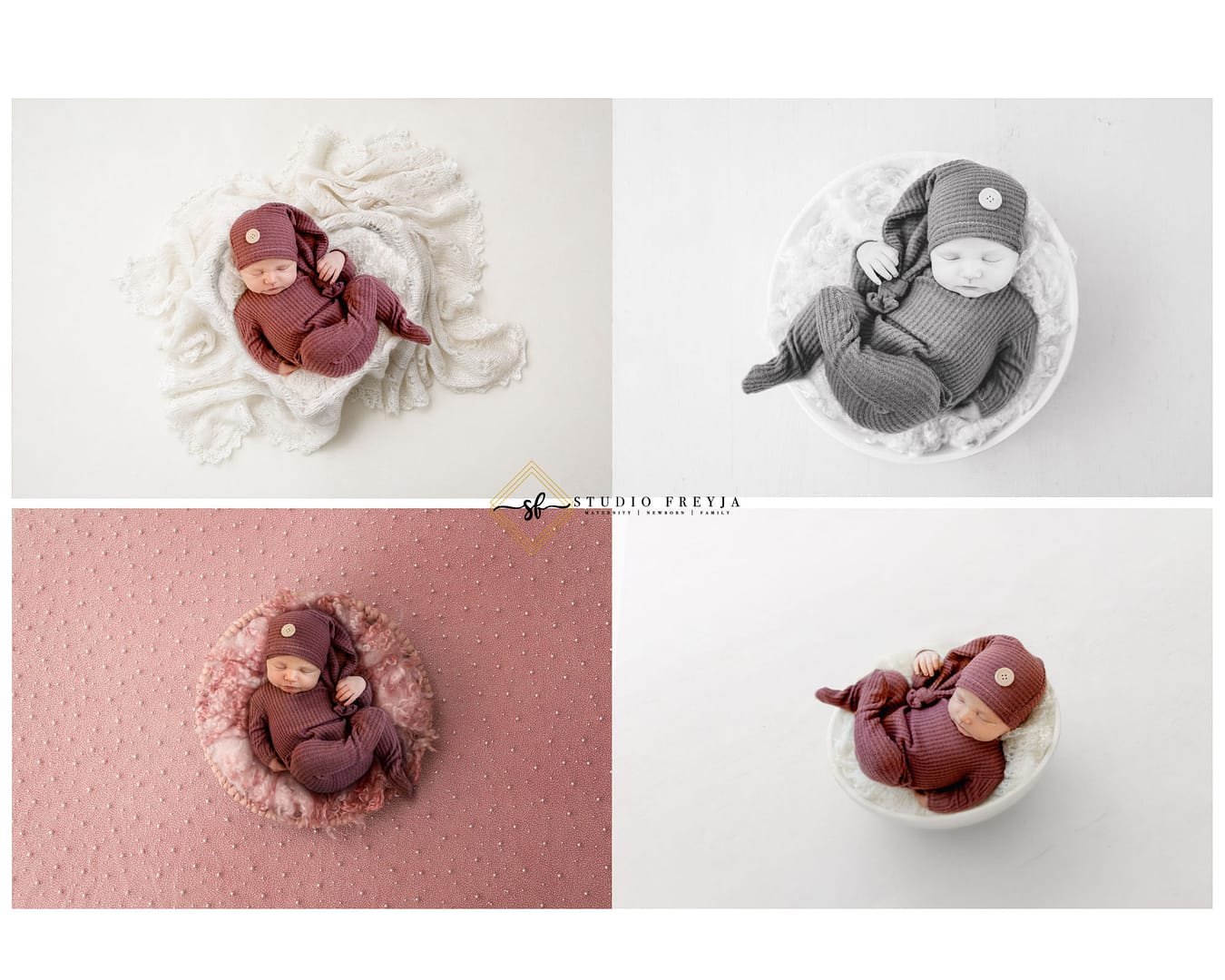 Ready for your Session?
If you're ready for your own newborn photography session in San Diego, don't hesitate to reach out to me today to schedule a call. You can also browse my Newborn Gallery, read up on the Blog, or follow me on Facebook or Instagram to see what else I'm up to.